We are Macmillan Library!
Are you a librarian? Awesome!
We are here to help.

Hip hip hooray, it's Labor Day! For us (and hopefully you) that means a nice, long, relaxing weekend with plenty of reading time (we're out tomorrow and Monday).
Here are the books topping our TBR pile:
ON THE EDGE by Edward St. Aubyn
On Sale: October 14, 2014
Shortlisted for the Guardian Fiction Award, St. Aubyn's take on one man's search for enlightenment as a cure to modern malaise is "razor sharp and maniacally clever."
— Publishers Weekly
TEXTS FROM JANE EYRE: And Other Conversations with Your Favorite Literary Characters by Mallory Ortberg
On Sale: November 4, 2014
From the co-creator of the cult-favorite website The Toast comes a whimsical collection of hysterical text conversations from your favorite literary characters. Check out samples from Jane Eyre, Gilgamesh, and Medea.
THE LAUGHING MONSTERS by Denis Johnson
On Sale: November 4, 2014
A post-9/11 literary spy thriller from the National Book Award–winning author of Tree of Smoke. One of Barbara Hoffert's Library Journal pre-pub picks!
readmoreremove
THE LONG WAY HOME by Louise Penny
Penny's highly anticipated tenth Chief Inspector Gamache novel is here! Booklist and Library Journal loved it with the latter warning, "The heartbreaking conclusion will leave series readers blinking back tears." Keep an eye out for upcoming major media for THE LONG WAY HOME, including NPR's "Weekend Edition," the New York Times, the New York Times Book Review, USA Today, Washington Post, and much more!
SUMMER OF THE DEAD by Julia Keller
In Keller's third Bell Elkins novel, a spate of violent crimes cast suspicion on a struggling young woman's family while Bell must deal with her sister's release from prison. Booklist and Library Journal gave it starred reviews with the latter saying, "The gritty Appalachian setting and plot will keep readers' attention locked on the pages. This title will especially appeal to fans of such rural noir authors as Tom Bouman and Daniel Woodrell."
NINE DAYS by Minerva Koenig
On Sale: September 9, 2014
"Texas architect Koenig's complex and intriguing suspense debut introduces 'Julia Kalas'—the name the WITSEC program assigned her after neo-Nazis made her a widow. Fans of distinctive female characters like Nevada Barr's Anna Pigeon and Becky Masterman's Brigid Quinn will be thrilled to add Koenig to their ranks."
— Publishers Weekly, starred review
"Small-town Texas is vividly brought to life in this atmospheric and entertaining debut that also introduces a memorable and unusual protagonist. It's bound to delight fans of Tricia Fields, Lori G. Armstrong, or James Lee Burke's 'Hackberry Holland' books." — Library Journal, starred review
readmoreremove
When we want a great thriller packed with big ideas, science, and action Douglas Preston is our go-to guy.
We love his Wyman Ford series and the most recent book, THE KRAKEN PROJECT, was praised in a starred and boxed review from Booklist:
"Preston's latest solo novel takes a wildly implausible premise and turns it into a very entertaining thriller. Preston sells the premise by sheer force of will: his characters are so compelling, his storytelling so persuasive, that we buy it all completely… Bravo."
Add all of Preston's books to your library shelves today!
Click here to download the handy-dandy one-sheet of titles.
If you've been lucky enough to meet her, you know why we love Lisa Scottoline. She's HILARIOUS, yet incredibly down-to-earth, a super talented writer, and very outspoken about how her books belong to several different genres.
Lisa is the cover story of the October 2014 issue of Writer's Digest (on stands now)!
She talks about early success with her Rosato & Associates series, yet didn't want to be known as "the female John Grisham." That led her to write standalone novels about emotional justice, including LOOK AGAIN, and most recently, KEEP QUIET.
Meanwhile, she's relaunched her bestselling Rosato series with last fall's ACCUSED (BETRAYED is the new Rosato book due out November 25) and has written several essay collections with her daughter Francesca Serritella based on their Philadelphia Inquirer columns. Their most recent book, HAVE A NICE GUILT TRIP, was a People Magazine pick.
Lisa also gives great advice to aspiring writers:
"The world is really tough on people who want to be writers, and there's precious little support for it. You have to nurture this dream. I visualize it as a candle. You're the person in the movie walking around in the dark scary house, and you have the candle in the little dish, and you have to protect it with your hand. It can blow out very easily. And the world is not going to help you hold the candle. You've got to protect the candle.
readmoreremove
Happy #BookBday to these fabulous new titles:
LOCK IN by John Scalzi
Scalzi's near-future thriller landed on the August 2014 LibraryReads list and received three starred pre-publication reviews, like this one from Kirkus: "This SF thriller provides yet more evidence that Scalzi is a master at creating appealing commercial fiction."
FIVES AND TWENTY FIVES by Michael Pitre
Early buzz has been building for Pitre's incredible debut novel (it's a B&N Discover New Writers pick, a Library Journal Best Summer Debut, a September 2014 Indie Next selection, a "Summer/Fall Indies Introduce Promotion" selection, and a featured Maximum Shelf Awareness title) and now major media is ramping up. Pitre will be interviewed on NPR's "All Things Considered" (air date TBD), and reviews are coming in from USA Today, the Washington Post, and the New York Times, which called FIVES AND TWENTY FIVES, "an unblinking, razor-edged portrait of the war."
THE FURIES by Natalie Haynes
Another Library Journal Best Summer Debut selection is Haynes's "accomplished psychological mystery" (Publishers Weekly, starred review) about a drama teacher whose students react to Greek tragedies in dark and surprising ways. "Fans of suspense fiction with depth will especially enjoy this read." — Library Journal
THE PHANTOM COACH: A Connoisseur's Collection of Victorian Ghost Stories by Michael Sims
Sims's collection of "delightfully creepy"* Victorian ghost stories from famous writers such as Charles Dickens, Edith Wharton, Henry James, Thomas Hardy, and Arthur Conan Doyle is "a great collection for literature fans who enjoy lesser-known stories by famous novelists." — *Booklist
Beat the back-to-school blues with these awesome books from Griffin Teen:
SWAY by Kat Spears
In this "compelling debut told with swagger and real depth" (Kirkus Reviews, starred review) by librarian Spears, a young man who avoids emotional connection at all costs is forced to open his heart when he meets the girl of his dreams. "Engrossing… Sharp dialogue, edgy humor, and an unlikely hero make this page-turner a winner." — Publishers Weekly, starred review
FEUDS by Avery Hastings
In an America split into the genetically superior and inferior, a fiercely ambitious ballerina and a boy from the wrong side of the tracks must stop a deadly virus that is spreading quickly. "FEUDS is fast-paced and plot-driven [and] ends with an unexpected cliff-hanger. Readers will eagerly await the sequel." — School Library Journal
BEING AUDREY HEPBURN by Mitchell Kriegman
The creator of Clarissa Explains It All's first novel stars a 19-year-old girl from New Jersey who finds herself thrust into the world of socialites after being seen in Audrey Hepburn's iconic dress from the film Breakfast at Tiffany's. "Kriegman hits all the right notes for breezy escapist fiction—Manhattan glamour, glitzy parties, couture designs, and the name-dropping that goes with them." — Publishers Weekly
PARTY GAMES by R.L. Stine
The first new Fear Street book in nearly 20 years! Rachel Martin is thrilled to be invited to Brendan Fear's birthday party on Fear Island, but it's not all fun and games when party guests start dropping dead. "Stine again demonstrates that he is a true master of the formula." — Booklist
readmoreremove
Just in time for the new school year, here are several new books by and about teachers:
BLACKBOARD: A Personal History of the Classroom by Lewis Buzbee
"From the perspective of former student, teacher, and parent, Buzbee offers a keen look at the politics, economics, and sociology of how school has evolved and the history of school developments from textbooks to writing tools to blackboards, interspersed with his own visceral memories of nap time in kindergarten and learning to read and calculate. This is a loving and probing look at the social and emotional meaning of school." — Booklist
WHY TEACH?: In Defense of a Real Education by Mark Edmundson
Now in paperback. Edmundson, a renowned professor of English at the University of Virginia argues forcefully that the liberal arts are more important today than ever. "A heartfelt, beautifully written, profound, and often hilarious appeal to rage against the machinery of modern education." — Booklist, starred review
GETTING SCHOOLED: The Reeducation of an American Teacher by Garret Keizer
Keizer's memoir "packed with humor, pathos and valued insights" (Kirkus Reviews, starred review) of his return to teach at the same rural Vermont high school where he taught fourteen years ago is "a sympathetic portrait of a school, a searing indictment of a culture that uses working-class children as cannon fodder, and, unexpectedly, a page-turner." — Publishers Weekly, starred review
readmoreremove
Happy Friday, friends! Today we've got two Entangled Teen titles waiting for you to download over at Net Galley!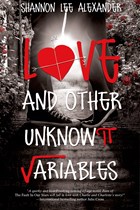 LOVE AND OTHER UNKNOWN VARIABLES by Shannon Alexander
A love story in the vein of THE FAULT IN OUR STARS. High school senior Charlie Hanson is a rising physics star bound for MIT when he falls for Charlotte Finch, who was recently diagnosed with cancer. When Charlotte asks Charlie to orchestrate the biggest prank campaign in Brighton history, it puts his bright future in jeopardy and Charlie realizes he must choose between the familiar formulas he's always relied on, or the girl he's falling for (at far more than 32 feet per second).
Click here to download the e-galley of LOVE AND OTHER UNKNOWN VARIABLES.
THE WINTER PEOPLE by Rebekah L. Purdy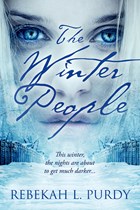 Perfect for fans of Kristin Cashore or Maggie Stiefvater, this engrossing, complex, romantic fantasy stars Salome Montgomery, a young woman haunted by her near drowning in winter. When she's left in charge of her grandparents' estate, Salome discovers she's a key player in a strange world where two young men try to protect her from an evil that, given the chance, will kill her.
Click here to download the e-galley of THE WINTER PEOPLE.